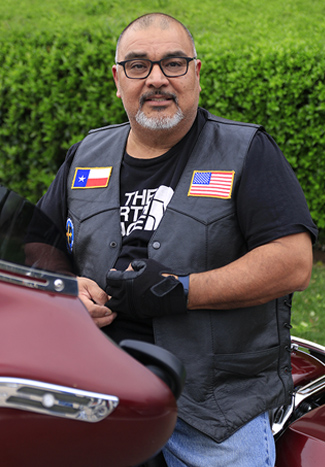 SK Ruben Camarillo
KoB-Dallas
I was born in East Chicago, Indiana, eventually my parents uprooted us and we moved to Dallas, Texas when I was very young. Growing up in the little Mexico Village until six grade and our next move was fifteen miles north to Farmer Branch. At thirteen years old, I graduated from R L Turner High School in 1976.
I learned to ride a motorcycle when I was fifteen at the Jack in The Box parking lot I used to work at. A coworker sold me a Suzuki TS 125, in between my shift breaks I would go outside and practice. In no time that evening, I learned to master the clutch and change gears. After my shift I was very comfortable riding it home and been riding ever since.
I married the love of my life and have been happily married for 38 years, with 4 kids and 5 Bikes. I love to enjoy family time, hiking, fishing, camping, and of course riding. My favorite ride is the Three Sisters rides in the Hill country. I joined the Knights of Columbus about six years ago and the Knights on Bikes-Dallas about three years ago. I started working for Halliburton in 1978 at 20 years old, after 40 years still working for Halliburton.