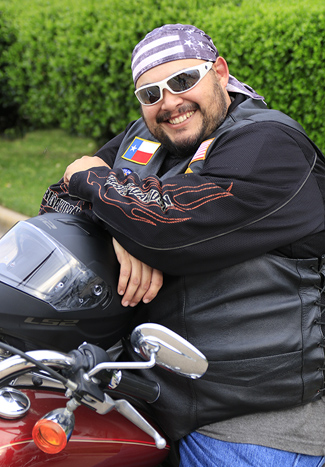 SK Jesse Tapia
KoB-Dallas Interim President
I'm a Dallas native who currently works as Licensed Paramedic for a private EMS company based out of Houston. I've been a Paramedic since 2006 and in EMS since 2002. EMS initially was a stepping stone and for hands on experience while as a Pre-Med at Baylor University but it developed into much more. Being an EMT, opened up doors for teaching CPR and First Aid for the American Heart Association and eventually at adjunct professor for Dallas County Community College District.
My love of motorcycles has extended longer than my time riding them. In my younger days, I was fascinated by the bravado of the younger guys on street bikes. I can't deny that speed and the adrenaline rush was a huge factor. While in college, friends got street bikes and I attempted to ride one, unsuccessfully I may add. Within a matter of a few hundred feet, I almost hit a parked truck. I swore street bikes off immediately.
A year or so later, I began working for my first ambulance company in Waco, TX. Working 911 quickly subdued the need for an adrenaline rush. Several coworkers had nice Harleys and my interest was sparked. In between patients I would search Harleys website and attempt to customize motorcycles with various chrome parts and paint schemes to fit my style. The lowrider car style of candy colors with flake and lots of chrome was easily transitioned to my first motorcycle. I currently ride a 2009 Dyna Super Glide Custom, which I've had since 2011. Knights on Bikes and Knights of Columbus have merged my love for community service with unity of other like-minded people who enjoy being on two wheels.